Life Insurance
The last thing anyone likes to think about is what will happen to them if a loved one passes away, however this is something that should always be planned for. One of the best ways to prepare for difficult events is through the purchase a life insurance policy. Life insurance is most often affordable even if the insured doesn't live the healthiest of lifestyles. Some life insurance policies are used to bury loved ones while others help support survivors.

Life Insurance is a contract between 2 people - the policy holder and the insurer. The insurer promises to pay a designated beneficiary a lump sum of money upon the death of the insured person. Depending on the contract, other events such as terminal illness or critical illness may also trigger payment. The policy holder typically pays a premium, either regularly or as a lump sum. The advantage for the policy owner is "peace of mind", in knowing that the death of the insured person will not result in financial hardship for loved ones or lenders.


Life Insurance contracts fall into two major categories:
• Protection: Designed to provide a benefit in the event of specified event, typically a lump sum payment. A common form of this design is term insurance.
• Investments: Where the main objective is to have growth of capital by regular or single premiums. Common forms are whole life, universal life.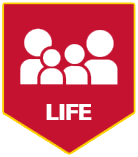 Please Note: Product, coverage, discounts, insurance terms, definitions, and other descriptions are intended for informational purposes only and do not in any way replace or modify the definitions and information contained in your individual insurance contracts, policies, and/or declaration pages.